CIS OFFICE INSTALLERS RETURNS TO WORK ON MONDAY MAY 11th !
SHIPMENTS TO OUR WAREHOUSE MUST BE SCHEDULED IN ADVANCE THROUGH TONY SCALISE 412-965-3953 or tscalise@cisinstallers.com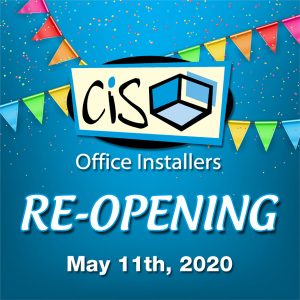 I sure hope that you and your family are safe sound throughout this unprecedented pandemic. As you may be aware CIS was shut down by government mandate in late March.
We're going to do our very best to pick up where we left off, however it will certainly be a challenging task. In essence we have lost nearly six weeks of progress. Of course we will do everything humanly possible to service you in a timely manner, but  I must ask for your patience and cooperation as we reopen on Monday May 11th. Just to finish the projects that we started (prior to the shut down), which are partially complete, we'll be working into late May. The other significant issue will be Covid 19 job site safety measures which will have a great impact on our productivity and ability to fast track jobs. For example, we now have limits on the amount of workers permitted in allocated spaces.
In our 37 years in business we have dealt with many difficult situations with a determination to succeed for our employees, customers and partners. This will be no different. We shall remain diligent with stringent safety practices (see below) and a comprehensive operations approach which will hopefully get us all back on track.
I thank you in advance for your patience, friendship, and support.
John Vento/Owner
1.All employees to wear masks / face coverings that meet the standards set forth by the PA Secretary of Health.
2.Social distancing (6 feet minimum distance between workers) Unless the safety of the public or workers require deviation (e.g. unloading trucks, team lifting) as directed by the Guidance for Business in the construction industry Issued on 04-23-20 by the state of Pennsylvania.
3.CIS vehicles to have 1 driver only for local work. All other employees are to commute (personal transportation) and meet at site.
4.Company buildings and vehicles to have all high touch areas sanitized daily.
5.Limit tool sharing and sanitize tools if they must be shared.
6.All employees to follow personal hygiene standards (frequent hand washing, coughing / sneezing into elbow, refrain from touching face).
7.CIS to provide temporal scanning thermometers to have foreman check all employees prior to shift (100.4 Fahrenheit or higher to be sent home).
8.Each job will have a container with, spray disinfectant, hand sanitizer, nitrile gloves.
9.Employees who have the slightest symptoms (i.e.. Fever, cough, shortness of breath) will contact their supervisor and stay home.